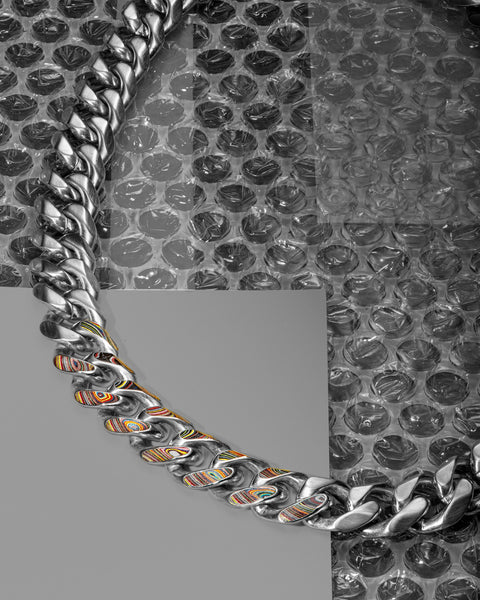 TEA X NO--LAND = BUDDYLAND®  a collaborative project with NO--LAND based in Seattle WA.  
This cuban link chain is engraved with BUDDYLAND® and is 22" in length.  It can be shortened to any length you'd like but cannot be made longer.   
1 of 1, once its gone its gone
Fordite, also known as Detroit agate or Motor City agate, is old automotive paint which has hardened sufficiently over time allowing it to be cut and polished. It was formed from the buildup of layers of enamel paint over-sprayed on tracks were vehicles were hand spray-painted. These tracks carrying vehicles would be used daily causing the enamel paint to be overlapped and baked numerous times. This process of painting vehicles has sense been automated making Fordite quite rare.
Shipping: Purchases over $1000 will ship domestically at no cost, insured, and requires signature confirmation upon arrival.