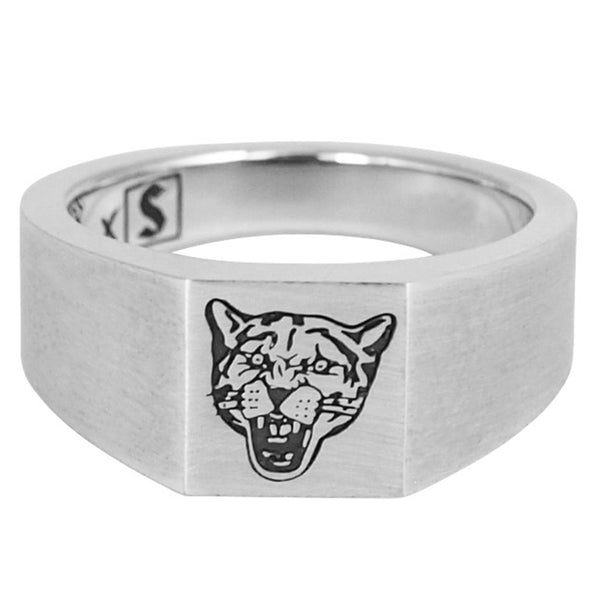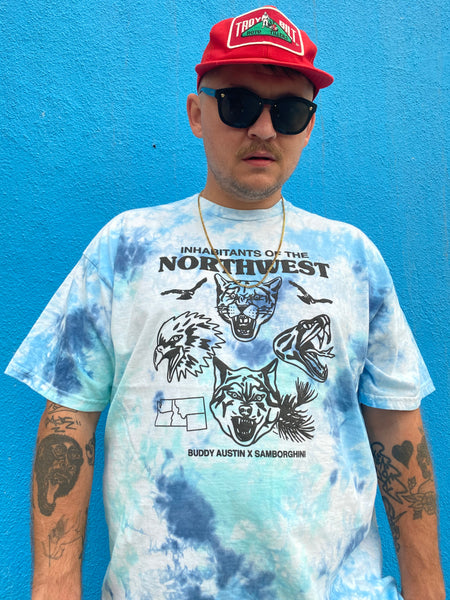 Inhabitants of the Northwest:  Samborghini and Buddy Austin teamed up to create a series of Signet rings and a matching tie-dye t-Shirt.   The wolf, rattlesnake, eagle, and cougar are among the Northwest's most respected and awed animals.  They each represent various habits and virtues.  The wolf is a pack animal and represents loyalty.  The rattlesnake sheds its skin over and over symbolizing immortality and creativity.   The bald eagle overcoming threats of extinction represents resilience and peace.  The cougar silently roams vast distances representing stealth protection.
A portion of the proceeds will be donated to Conservation Northwest, who's mission is to 'Keep the Northwest wild' by protecting, connecting and restoring wildlife and wildlands in Washington and British Colombia.  
Ring: made in Sterling Silver with hand engraved Rattlesnake and collaborative hallmarks.  
SIZE 9: But can be Resized.  Just email us with your size and order number after you place online order.  sales@thirdeyeassembly.com 

Cougar: The Northwest Cougar aka Puma concolor are commonly referred to as mountain lions or pumas.  They are solitary animals and are known for there extremely athletic abilities of speed and strength.  They are extremely rare to spot in the wild and attacks are very rare, there have actually only been 2 documented attacks on humans in the last 100 years in Washington state.  Cougars are not classified as threatened or endangered thankfully.  They are known to be extremely territorial.  An adult male Cougar usually roams and protects areas of 150 square miles.  They consider this their territory. If another male comes into the territory and tried to claim it, there will be a fight to the death.   They are incredible creatures and often travel 150 miles from where they were born to find there own territory. A female cougar typically will have a 50 mile territory within a males territory as they work together and mate.

Inhabitants Tie Die t-shirts are available at samborghini.com
More about Conservation Northwest:
They work on-the-ground across Washington to restore forests, shrub-steppe and grasslands to increase wildfire resilience, including through forest collaboratives and our Forest Field Program. They've also represented the Washington Prescribed Fire Council to help restore natural low-intensity fire cycles to dry forests across the state, and work in Olympia and Washington, D.C. to improve fire and forest policy at the state and national level.